Book Review: My Evernote
See on Scoop.it – educational technology for teachers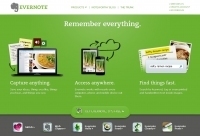 Evernote is a popular FREE note-taking app that stormed onto the internet consciousness a couple of years ago and quickly became the standard by which all competitors are judged. It enables you to copy snippets of webpages, images, audio files, and more into personal collections that are not only shared across all your digital platforms–desktop, laptop, iPad, smart phone–but with friends of your choice. A little like Google Docs, but easier, faster, and more accessible. Despite daunting competitors like MS One Note and Google Notebook–and smaller ones like Diigo and ReQal, Evernote has amassed over 11 million happy users. If you've been promising you were going to try it, but were waiting for a magic wand to clear up all your questions, it's arrived.
Katherine Murray's new how-to book, My Evernote (Que 2012) has an awful lot of the answers, enough that I now have my Evernote up and running like a leopard across the African savannah.
Let me back up a moment. I got My Evernote because I got stuck. I downloaded Evernote, tried it out, and somewhere between installing and using, lost my way. Yes, I managed to snip website pieces, share documents from my computer, but I failed to accomplished the one think that motivated me to download it: I wanted to collaborate on documents with friends. I muddled around on my own, decided it was too d*** hard, and put the program aside. I planned to research more later, but instead forgot about it.
See on askatechteacher.wordpress.com
No Responses to "Book Review: My Evernote"